Domerama offers you DIY solutions for metal and timber geodesic domes. Here we'll present a brief overview.
Timber advantages over metal frame geodesic domes
The advantage of a geodesic timber dome is how easily it can be covered, rather inexpensively, and quickly. On the other hand, a geodesic dome made of  a metal conduit/pipe is a challenge to cover and often an expensive proposition.
When using wood/timber as the primary material, you can use transparent or translucent polyethylene plastic film, staple it directly on the structure, cover the staples with some silicone and then add a strip of wood for added protection and appearance.
And the best part is that you do not need to do much measuring because most parts are triangle shapes repeated with the use of a jig to ensure precision.
For a more professional appearance
You can cut triangular shapes from hard plastics such as polycarbonate sheets, glass or even acrylic. In the plans we offer almost all only require 2 or 3 varied shapes, making the cutting of the panels a simpler operation. Instead of stapling you screw and/or glue the panels on the structure and cover the seams with silicone and strips of wood, just as for plastic in roll form.
A note about geodesic greenhouses
There are a few greenhouse manufacturers who are more than willing to sell you a geodesic greenhouse kit… Usually starting at $10 000… They do offer convenience, almost worry-free solutions. But consider this:
Shipping costs for your dome can be prohibitive
Most timber geodesic plans offered on Domerama are under $50 and are very easy to make
You have more control over the materials you will use
With a basic effort you can cut your costs to a fraction of what you pay for a kit
Not convinced you can do it yourself? click on the banner below. George did much more than the average person but you'll get the idea.

To view available timber geodesic dome plans, click below: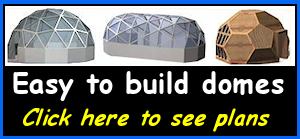 So what's best for your needs?
Here are a few basic rules when you build your own geodesic dome
For a climbing dome for the kids, a timber or metal dome are both good choices
If you want a geodesic greenhouse, a timber dome is the preferred solution
For event domes of various kinds and diameters, a metal dome is usually the best option