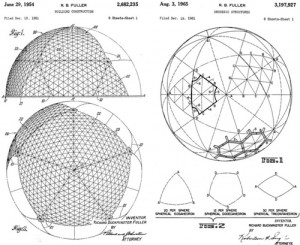 Since R. Buckminster Fuller received his first patent in 1954 many other geodesic-related patents were applied for and issued. Even Fuller received another patent for an improved geodesic dome in 1965. Many of the patents relate to hub connectors for metal but mainly timber geodesic domes.
About patents
Generally a patent is valid for 20 years but the clock starts ticking from the moment you file it with the patent office. If you are awarded the patent 2 years later you have 18 years left to exploit it exclusively. The 20 year patent is a non-provisional patent. You can also receive a "provisional patent" good for a year.
Non-provisional: application establishes filing date of your patent application and the examination process by the USPTO (United States Patent and Trademark Office) begins.
Provisional: establishes your filing date and expires automatically after a year. Used for when one is not ready for the regular examination process. Also allows "Patent Pending" to be applied to the invention.
The list below is far from complete but it will give you a good idea of what inventors filed to patent. Links are to Google Patents.
| | | |
| --- | --- | --- |
| Patent description | Issued/Filed | Patent Number |
| BUILDING CONSTRUCTION (FULLER GEODESIC DOME) | 29-Jun, 1954 | 2682235 |
| SELF-STRUTTED GEODESIC PLYDOME (FULLER) | 22-Sep, 1959 | 2905113 |
| SYNERGETIC BUILDING CONSTRUCTION | 30-May, 1961 | 2986241 |
| TENSILE-INTEGRITY STRUCTURES | 13 Nov, 1962 | 3063521 |
| GEODESIC STRUCTURES (FULLER) | 3 Aug, 1965 | 3197927 |
| COLLAPSIBLE RETICULAR STRUCTURES | 4-Mar, 1971 | 3766932 |
| Dome joint structures | 07-Jan-72 | 3635509 |
| Dome joint | 26-Dec-72 | 3810342 |
| Modular dome structure | 01-Jun-76 | 3959937 |
| Hub for geodesic dome framework construction | 09-Nov-76 | 3990195 |
| Dome construction method | 28-Feb-78 | 4075813 |
| Domical structure | 06-Jun-78 | 4092810 |
| Dome structure and method of construction | 10-Jul-79 | 4160345 |
| Universal hub for geodesic domes | 25-Mar-80 | 4194851 |
| Hub and strut system for geodesic domes | 20-May-80 | 4203265 |
| Method of making metal beam for geodesic dome | 02-Dec-80 | 4236473 |
| Geodesic dome connector | 21-Apr-81 | 4262461 |
| Clustered geodesic structures | 28-Apr-81 | 4263758 |
| Complementary geometric modules | 19-Jan-82 | 4310994 |
| Connector hub | 25-Jan-83 | 4370073 |
| Junction plate | 24-May-83 | 4384801 |
| Geodesic dome-type building structure | 27-Dec-83 | 4422267 |
| Junction plate | 12-Feb-85 | 4498800 |
| Connector for geodesic dome | 1 Mar 1982 | 4491437 |
| Connector unit for geodesic dome frame strut | 16-Apr-85 | 4511278 |
| Portable shelter | 24-Sep-85 | 4542759 |
| Ledger hanger for geodesic domes | 28-Jan-86 | 4566818 |
| Combined truss strut and hub connector for dome structures | 03-Jun-86 | D284103 |
| Ledger hanger for geodesic domes | 03-Jun-86 | 4566818 |
| Large span dome | 16-Sep-86 | 4611442 |
| Geodesic mold house | 24-Mar-87 | 4651478 |
| Dome-shaped building structure | 26-Jan-88 | 4720947 |
| Geodesic dome and method of making | 08-Mar-88 | 4729197 |
| Vaulted dome structure | 30-May-89 | 4833843 |
| Spiral helix tensegrity dome | 20-Feb-90 | 4901483 |
| Interconnected hexagonal building structures | 18-Feb-92 | 5088245 |
| Polyhedron building system | 27-Jul-93 | 5230196 |
| Joint-adapter for doubly curved lattice girders | 21-Mar-95 | 5398475 |
| Geodesic igloo constructor | 12 Mar 1996 | 5497974 |
| Modular construction for a geodesic dome | 13-May-97 | 5628154 |
| Child's play shelter | Jun 29, 1999 | 5916097 |
| Prefabricated portable tornado shelter | 28-Nov-00 | 6151841 |
| Portable greenhouse structure and method | 31-Dec-02 | 6499260 |
| Interconnecting plate system | 14-Jan-03 | 6505451 |
| Geodesic dome connector | 26-Jul-83 | 4395154 |
| Hub for geodesic dome framework construction | 12-Apr-83 | 3990195 |
| Joint for geodesic dome | 13-Jan-81 | 4244152 |
| Connector for geodesic dome ]structures | 28-Sep-10 | 7802404 |
| Hub for geodesic dome construction | 23-Feb-84 | 4534672 |
| Connectors for geodesic dome structures | 07-Aug-84 | 4464073 |
| Geodesic domes and improved joints therefor | 07-Dec-99 | 5996288 |
| GEODESIC DOME STRUCTURE | 22-Apr-69 | 3439460 |
| Jig for precise measurement of panels for geodesic | 12-Feb-80 | 4187613 |
| Spherical dome | 08 – Mar 2011 | 7900405 |
| DEFORMABLE TUBULAR RODS WITH DEFORMABLE SHEET MATERIAL CONNECTORS | Filed 9 Apr 1973 | 3830011 |
| Geodesic dome assembly joint | Filed 6 Jun 2002 | App 10163906 |
| Hub for geodesic dome construction | Filed 13/06/2007 | App 11762449 |