Geodesic dome on zero budget
What do you get with 2 guys with no money to spare and lots of time on their hands? Two 3v 5/9 geodesic domes built with recycled metal pipe.
Gerry and I were looking into making inexpensive geodesic domes that we could use and build without requiring a permit. Luckily for us the local rules stated that you did not require a construction permit for tents or shelters that are less than 646 square feet (60 square meters.  This is approximately a 26′ X 26′ area, or just a little over 7.5m   X 7.5m.
We decided on building two identical structures and when it came to covering the geodesic domes we would attempt to each try a different way just to see how it turns out. The required length of pipe for 2 domes would be 2000 feet (615m). Our price for each 16-foot (5m) length was $4. So we purchased 130 lengths at $4 each = $520 of pipe to make 2 domes. But to be accurate, we did have to return to purchase more as some sections were in bad shape.
The deal was simple: Gerry covers the costs of material, I did the work. This made sense as Gerry lives 2 hours away. Once we figured out the cost of material, Gerry sent the money and I went to work.
It may seem inexpensive but that does not include labour which in this case required removing the rust off the pipe and put on 3 coats of paint, including a primer coat.
A little help from some friends…
With the kind help of a local business person, I was given access to the tractor dealership/small engine repair premises where I could cut, drill, paint, anything I needed to do to complete the 2 identical domes. One would go to Gerry, the other would remain by the road to be used for special events and eye candy to attract customers.
The greatest help came from Norm, the store manager who supplied expertise, equipment and the space to work in.
Dimensions, permits, rules and common sense
This allowable area for a geodesic dome let us conceive a 3V 5/9 dome of 26 feet in diameter, a little more than half a sphere with an approximate height of 17 feet (5.2 meters). Gerry defined his specifications for the domes. Being a brilliant dome head he insisted on precise measurements for all aspects of the dome. Despite the fact I was not using the most advanced machines, his measurements turned out to be pretty much how he wanted them.
So, back to the recycled metal pipe. As you can see below it was identified by the following markings:
to be this type of pipe:

This was fairly thick 1-inch outside diameter pipe  with a 1/8th of an inch thick wall. For the size of geodesic dome we we to built, the pipe strength seemed to be above any required specifications. It certainly was much stronger than EMT conduit.
This is not why I purchased a mini-van
Because Gerry was 2 hours away and the scrap yard was much closer for me, I was the obvious choice to obtain the pipes. It was also made even more obvious as I would be processing the pipes near my home.
These were  16-foot pipes.  Even with my extended mini-van and sliding everything to the very front of the vehicle I still had 6 feet (2 meters) sticking out. And because of the weight of the pipes I made 4 trips.
This being a scrap yard, you are pretty much on your own when finding what you want and pulling it out of the pile. Luckily, Elie the manager gave me a hand when he could, but in the end, the simplest way to get the packs of pipes out was to attach a tow cable to my van and the other end to a pile of pipes. Let's just say I did not always get the pack out on the first try…
As I brought in loads of pipes, I needed to store them somewhere temporarily, which turned out to be between the store wall and a storage container. Once the pieces were cut I was afraid someone would get the bright idea to steal them for personal use, so Norm suggested we store the struts in the store's pickup truck. The picture shows an F-150 with the contents of a little under one 26-foot dome, some cut, some about to be.
Cutting, flattening  and drilling
Thanks to Norm's significant help, this project could be realized with a minimum of expenses; he brought in his cut-off saw and a hydraulic press, the two main pieces of equipment to make geodesic dome struts.  To cut close to 2000 feet of pipe it took 4 10-inch grinding discs.
 Here below shows where all the pipes were cut. As mentioned before, this was a low-tech way to cut struts, but with patience, little space, a tape measure and the use of many patio stones the large majority of pipes were cut precisely.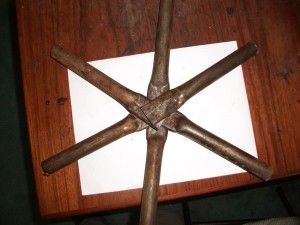 Once cut, the pipes were stored on the side of the building waiting to be pressed and drilled. The first step before actual pressing was to verify if Gerry's calculated length to press at each end would be appropriate. After some tests we agreed that 2 inches was adequate to press at each end.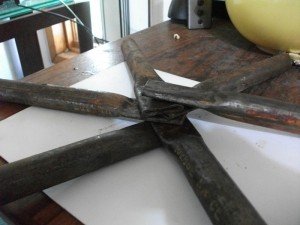 A very boring phase: flattening
To be fair, if I had access to a "real" hydraulic press I could have done the pressing for 2 geodesic domes in a couple of days. But since we had to make due with what was available Norm's press was a good alternative.
On a standard machine shop drill press you can press many strut ends quickly because the machine is powerful and fast. In our case the press was slow and did not have as much press tonnage.
But there was a saving grace: your standard consumer hydraulic press is hand-actived, meaning you need to move a lever up and down to  bring down the plate and press the pipe. Norm's machine was both manual AND could also be connected to an air hose.
Even if it took a while for each end to be pressed (I flattened the ends for 2 domes, for at least 650 pressings) it was balanced out by something else Norm had done to the press; He used 2 thick metal plates and carved out the correct shape into which the pipe should be pressed, a curved shape.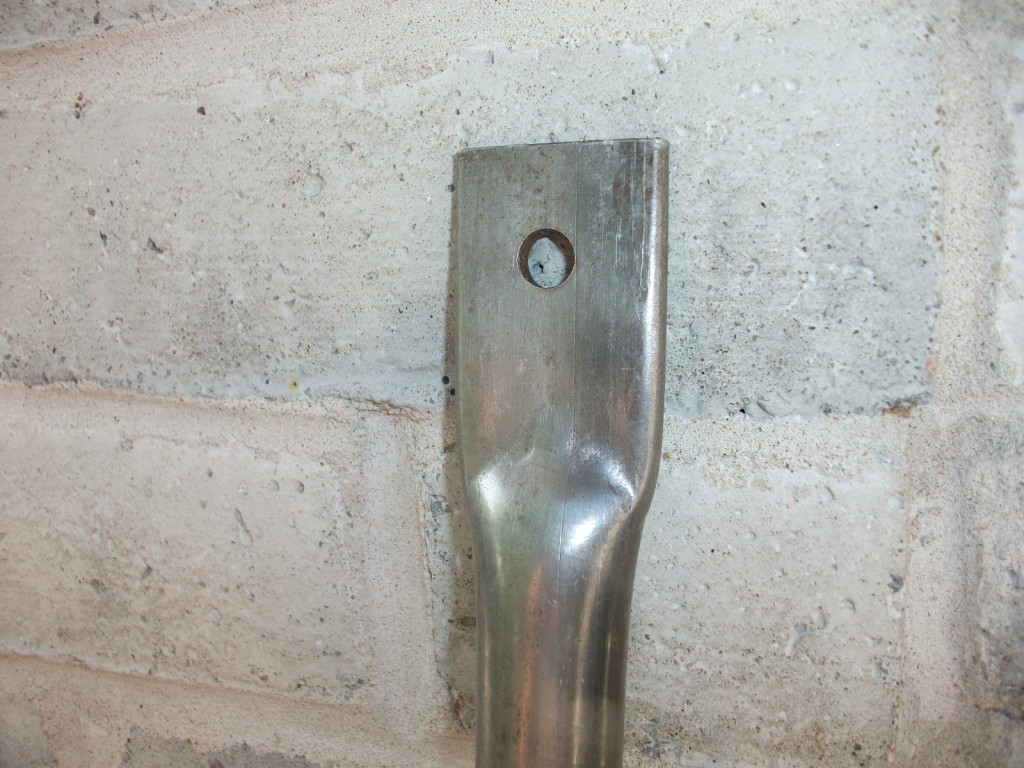 To also ensure the plates always matched (top and bottom plates) when pressing, he added holes into which bolts were inserted. The same bolts also served as guides so that every time a pipe was inserted, it locked it into place, ensuring the same result every time.
Drill, baby, drill!
Here are some pictures of our state of the art, sophisticated drilling equipment. Well, it was… in the 1960′s.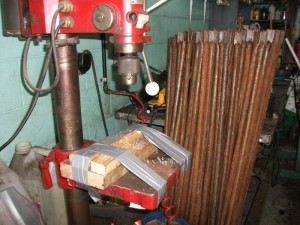 The shop was not equipped to manufacture geodesic dome struts, so some things such as jigs, platforms and clamps were in short supply. Then Red Green's convincing speeches on how anything can be fixed with duct tape came to mind. That crazy Canadian was right after all!
I was short on time and even shorter on equipment and tools.  With the help of Jacques the store mechanic we proceeded to make jigs out of things lying around. As amateur and ugly as it may seem, what we came up was able to repeat the same drill position time and time again. Of course I had some pieces that were off the mark, but overall, that duct tape solidified everything to give precision performance.
The obvious reason this setup worked so well was because everything was tied down, tightened, and regularly checked for any possible movement. For almost 700 drilled holes we used 2 drill bits, one of which was sharpened 3 times. The holes were drilled 1/16th of an inch bigger than the bolt size we used.
So how does a cleaned-up, pressed and drilled pipe look like? See below.
And let's not forget the entrance
We decided on a simple entrance to give the domes a nicer look.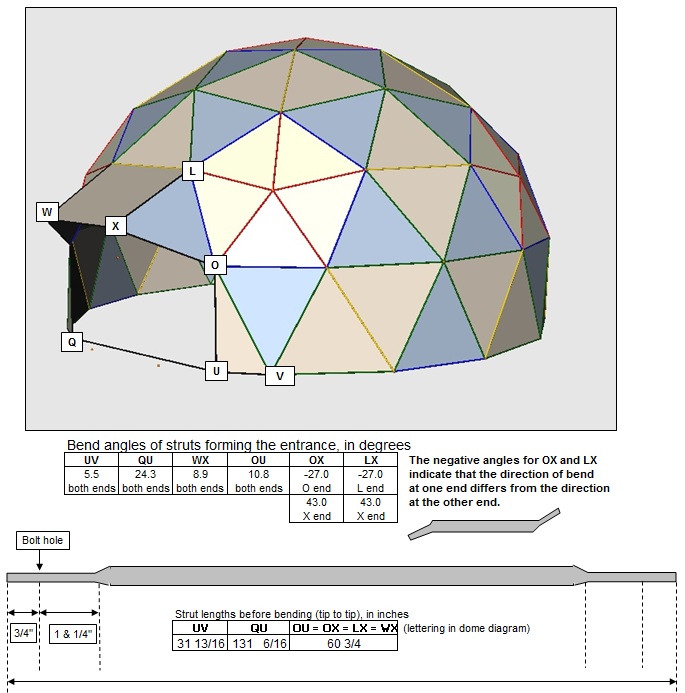 Separation and transportation: the Gerry story
Remember that I was processing pipe for two full 3v 5/9 domes (each one a little more than half a sphere). That meant half of all my work would be to make the struts for Gerry, a couple of hours away by car.  My work was to process the pipe and Gerry would handle the rust removal on his struts. Here is his share of dome struts before I brought them  to him.
The good part about delivering Gerry's dome was the free weekend vacation at the cottage I spent on the lake. Unfortunately it rained on and off most of the time but we still managed to get his dome struts cleaned up and even get to apply the initial primer coat on the metal. Below you can see a makeshift frame to hold up the struts for drying after each coat. We simply drilled some screws into the top part, on both sides. When fully used the structure becomes very heavy. We had to reinforce the frame when we started hanging struts on the opposite side. Drinking beer also seemed to affect it…
And as always, one needs space to store the pieces before they are cleaned and painted. In this case we used the great outdoors
-
  Put your pedal to the metal and then to the other metal…
Gerry being naturally shy would only let me photograph his footwork. Here he is with a setup he made to bend the struts to a very precise angle. As primitive as it may seem, Gerry ended up by precisely bending the strut ends of more than  170 sections (we made spare pieces)
Paint and dry in the storage shed
Gerry had a small but nice guest house that was to be converted into an art studio for his wife. Being the beginning of the summer season and her being away for the weekend, we decided on moving the hanging frames into the guest house because of the bad weather. The picture below shows the primer (first) coat.
All built, all painted, all assembled
Here we are at the end of the summer and the dome is yet to be covered. We are looking to use shrink wrap material because of its strength, low cost and fire-retardant characteristics (premium wrap is usually fire-retardant).
But it's not over yet…
what you see below is our attempt to cover the dome with a couple of heavy-duty white tarps. It was not a great option but we wanted to try it until when we would obtain the shrink wrap. Moral of the story? Don't bother unless you can cove the entire surface, otherwise a storm is likely to lift this 1000lb structure and make it rise a couple of feet off the ground as it actually happened during a surprise and violent storm in August. It Would have been less scary had the dome been anchored as requested…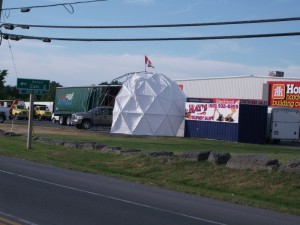 Click to enlarge