Geodesic domes made with a metallic frame are the premium versions of greenhouses. they are much sturdier, they last a very long time and are ideal for growing food year-round.
Peter Ellis has developed impressive greenhouse designs that you can appreciate for their quality of construction as well as for their pleasing design.
Atlantic Domes
Whilst studying structural and civil engineering on a part time basis in Northern Ireland Peter Ellis not only became fascinated with Buckminster Fuller`s geodesic dome geometry he decided, as Managing Director of Donalco Ltd,  to replicate he own version within his manufacturing facilities based in the Republic of Ireland.
 Click images to enlarge
Having over 20 years' experience in commercial aluminium and glass construction Peter quickly realised the structures beauty and potential as a glass dome. The prototype of what is now his finished product took his team a number of weeks to produce paying meticulous detail in the formation of the connecting hubs. Once complete Peter then set about producing working cad drawings in order to have the connectors cast in a non-corrosive aluminium alloy, with this particular component precast Peter saw that he could take days off the construction of the dome.
 Click images to enlarge

During this time Peter, along with one of his aluminum extrusion suppliers based in Northern Ireland, designed an extrusion loosely based upon a commercial curtain walling profile that would fit neatly over the "fingers" of the hubs and with precision engineering a machined bolt would then fasten the struts to the hub.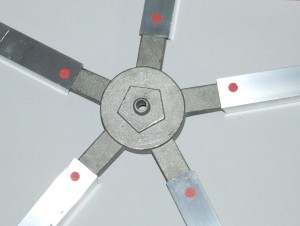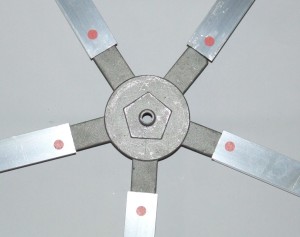 Click images to enlarge
During his market research Peter realised that, even though there were many versions of the geodesic dome available constructed from steel conduit/pipe and timber there was no such product manufactured from aluminium that could also be glazed with individual glass panels, This was when he formed Atlantic Domes, a company which specialises in the supply,   manufacture and construction of glass domes.
Along with a full dome Atlantic Domes also produces a half dome for customers who are a little less fortunate with the spacial requirements for a full dome. The half dome has been developed to attach directly on the gable end of your house or business premises while keeping with the aesthetics wonderment of the geodesic shape.
Click images to enlarge
In order to allow and maximise ventilation throughout his glass dome peter has also produced and opening vent designed to open and close with an increase and decrease in temperature.
Click images to enlarge
Atlantic domes also offers a bespoke range of products manufactured specifically to their client needs such as this particular project carried out of a theatrical company who`s design brief was to produce sensory learning environment for mentally and physically challenged children.
Click images to enlarge
Domes can create magic!
From Replay Theatre Company on Vimeo.
BLISS – afloat on a sea of dreams… an immersive adventure for upper primary and secondary pupils with profound and multiple learning difficulties
For more information on Atlantic Domes or to request a quote feel free to contact them at any time via their website or even visit their Facebook page and click "like" they would love to hear from you.    http://www.atlanticdomes.com/landing

 Atlantic Domes
Unit 1a curraghlea,
Letterkenny,
Co.Donegal,
Ireland
t. (+353) 74 91 76766
m. (+353) 87 6686 546