Poly films, or polyethylene plastic is an inexpensive, lightweight solution to cover a geodesic dome and many other types of structures such as greenhouses. Its main goal is to trap heat.
Its low cost and easy availability are the 2 main advantages for using a plastic film. Ease of manipulation such as cuting the material is also a benefit. Be aware that the poly films sold in hardware centersare not UV-treated unless stated otherwise. This means the product will quickly degrade and result in having to be changed every year. Its UV and light diffusion properties are weaker than greenhouse-specific polyethylene films.
Disadvantages of standard polyethylene
It does not breathe and so it traps humidity. Ventilation is mandatory, especially at peak summer days. Shade cloth is often used to further cut down on UV rays during the hottest days of the year.
It does not efficiently diffuse light, UV radiation, which destroys the film. You can get UV-treated film but it is more expensive and available mainly at specialty suppliers.
Its typical lifespan is 1 to 2 years. Premium thick UV-treated films can have a lifespan of up to 4 years.
Prone to weaken and break under stress. Though a thicker film will help make the covering more durable yet in areas of high winds and hail storms this might not make much difference. Poly film is very strong, yet any weak point where it is stapled, glued or rubs against something will accelerate breakage or splitting.
Despite these disadvantages polyethylene film is the most popular covering solution for greenhouses. A growing segment is the use of air-inflated double-polyethylene film which is similar to using bubble wrap to cover your geodesic dome or greenhouse, capturing up to 60% more heat than a single layer of polyethylene.
Comparison between poly-based covering materials
Type

Durability

Transmission

Maintenance

Light

Heat

Polyethylene

One year

90%

70%

Very high

Polyethylene UV resistant

Two years

90%

70%

High

FiberGlass

Seven years

90%

5%

Low

Tedlar coated Fiber Glass

Fifteen years

90%

5%

Low

Double strength Glass

Fifty years

90%

5%

Low

Poly carbonate

Fifty years

90%

5%

Very low
Attaching poly film to your geodesic dome
For metal geodesic domes attaching poly film is not obvious. You can glue or caulk your sections together although this does not hold the poly to your structure. Because film can be stapled, it's easy to cover a timber structure and seal the joints with a strip of wood and silicone or other caulking material.
Below is a popular method to secure your covering to the structure: poly batten tape, stapled to the structure
Poly clips are an inexpensive solution to stretch and tension your covering. Two typical clips are shown below.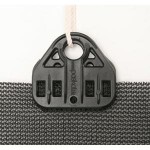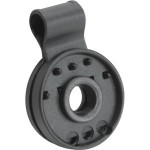 But for either metal or wooden frames you can use poly channels to attach the covering to the structure. Clips will add tension to the cover but poly channels can be attached to your dome or greenhouse wherever you have struts. They are available in plastic and aluminum (see image below). You screw the channels to your struts, insert the film and push in a strip to hold it all together.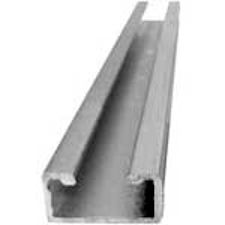 The biggest advantage to using a poly channel is that when you need to change the poly film you simply take it off, and put the new one on. Below is an image courteousy of Northen Greenhouse sales which shows the simplicity of securing your covering to your structure.